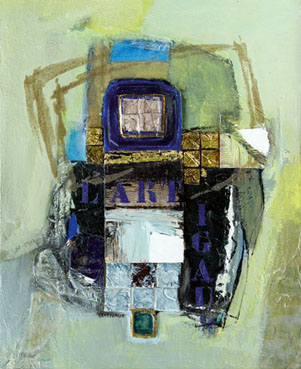 Perspectives
Jean-Michel Lartigaud is an artist of many dimensions.
Versatile and working across a wide range of media from tapestry to painting, etching and mixed media works, his collages of the 1980's are powerful and highly expressive.
The series of work entitled "Perspectives", so aptly named, are poetic and vivid low relief pieces enriched by the use of textural elements. Lartigaud subtly employs wood, metal and ceramic, to build up these rich textures. He also uses thickly applied impasto, suggesting ancient walls. The surfaces are tinted with rich colours and traces of gold, reminiscent of relics from Byzantium. These collages with their rectangles within rectangles have powerful structural motifs which are enhanced by Lartigaud's spontaneity of approach. The addition of stencilled text (Lartigaud's name) adds a mystique to the works. Partly obliterated the letters are there, but not there, emerging like ancient signs that have been partly washed away by the forces of nature over time.
Lartigaud is a lyrical and subtle colourist, but in producing his "Perspectives" is facility for rich texture and strong graphic form has come to the fore.
These works have impact, sensuality and life.
Madeleine Winch